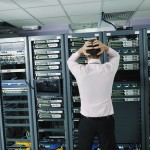 Originally published in the August edition of the NZ Business Magazine
In 2009, a squad of FBI agents burst through the doors of 2323 Bryan Street, Dallas, Texas. Their target?  Cabinet number 24.02.900.
The Bryan Street building was not the headquarters of a drug empire, a kidnapping ring or a money printing organisation:  it was a data centre.  And the cabinet the FBI seized contained the computers two men had been using to defraud AT&T and Verizon of more than US$6 million.
Cabinet 24.02.900 also just happened to be home to the data of dozens of other perfectly innocent businesses, not the least being Liquid Motors, an online company that provides inventory management to car dealerships. The seizure of their data cost Liquid Motors heavily in customers and plunged them into a legal battle with the FBI that nearly brought the business to its knees.
Was it just plain bad luck, or could Liquid Motors have avoided this disaster? Finding yourself sharing rack space with criminals would seem to be a risk that even the most exhaustive of business plans might not have identified.
Not so, according to Simon Falconer, Managing Director of Wellington-based IT company Resolve.
"Whether you're already storing your data in a cloud platform or contemplating doing so, there are some simple but critical steps you can and should take to avoid IT disasters. In essence, they're about finding out what security measures your IT provider has in place and, where appropriate, taking out data insurance."
When you're checking out an IT providers' track record, Simon recommends asking, first up, for referees, and going to the trouble of calling them. Then check whether or not the provider stores their customers' data in multiple locations that are geographically separate from one another. A good provider will have at least two sites that talk to each other: if one goes down the other will ensure the data remains available.
Cloud storage is convenient, but if your data is not more secure as well as more accessible then you're not getting all of the benefits of the cloud.
Simon also believes that even if you're confident your data is secure, data insurance can still make sense: "We install smoke alarms in our homes, but we still take out home insurance."
Data insurance packages can cover a business for the impact on revenue and profit of data loss due to software or hardware failures or viruses and hacking, as well as the risk of liability for the loss of  clients' or business partners' critical data.
There is another basic precaution Simon suggests, irrespective of where your data is stored.
"Back-up your data every night to an offsite location, even if that means taking your back-up hard drive or tapes home. In short, while your data might be out of sight, don't let it be out of mind. Do everything you can to make sure you select a trustworthy provider whose arrangements are sound and secure. And consider insuring your data, because even the best-laid plans often go awry."