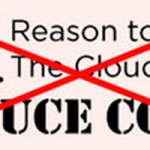 This month I wrote an article for the Law Society's publication, LawTalk, which focused on the real costs of IT for a new law firm by comparing the price of in-house infrastructure to our New Zealand based cloud solution, SmartLegal. The objective of the article was to highlight the cost factor when making decisions on IT set-up and maintenance, because making the wrong choice could cost your business a considerable amount of money.
The reality is however that cost is not the most important factor to new cloud adopters. Analysts say that cloud pricing is now second to overall functionality and business fit.
Large global corporations such as Google, Microsoft and Amazon Web Services are all using price points to position themselves and price drops are becoming common. What this does is force users to compare the service offer instead and take price out of the equation altogether.
New York based research analyst Owen Rogers from 451 Research believes that eventually the cost of the basic services will become irrelevant or bottom out at zero, and providers will need to make their revenue in value-added services.
Whether this analysis is right or wrong, we see the future of information technology becoming less about the cost of infrastructure and more about the difference in service and the overall value proposition we provide to our customers. For us it's about understanding our clients' needs by becoming specialists in their field (from an IT requirements perspective), and understanding that one size does not necessarily fit all.
Simon Falconer, Managing Director, Resolve Technology