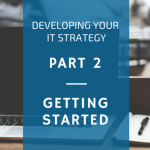 In Part 1 of Developing an IT strategy we talked about the benefits of having a strategy and why aligning it with you business development plan is an important step. Here we're talking about how.
Getting started
Take some cues from your business and marketing plans and layer an IT blanket over each element, including executive summary, goals of the strategy, budget and financials, personnel, risk management, project outlines, how it will be measured, and resources.
Assemble a small, knowledgeable team to work together on this around the same time the business planning is being conducted. It's important that those involved in this work have been included in the year's business planning sessions as well.
To get thinking about what should go in your strategy and how you might approach it, here are some thought starters:
Is my IT improving or hindering efficient workflow? How can we improve it this year?
Are we able to scale our IT up or down if the size of the team changes significantly?
Can we improve how and where staff can access their data offsite?
What devices are our staff using, and do they find these easy to use to perform work tasks?
What are our minimum requirements for internet speed and data storage? Will these be sufficient for the growth year we have planned?
Who is responsible for IT? Does this person need more resources and how will we ensure knowledge is transferred to avoid reliance on one person?
What is the support request process like and what escalation system is in place? Is this 'resource hungry' or efficient?
What systems or processes are in place for security or disaster recovery?
Are staff using only basic features of our software or not using it all? What training can be provided?
Are our IT use policies up to date?
What do the IT financials look like? Provide a deeper look into your IT costs than the numbers sitting in your business plan.
Up next
In the final of this 3 part series, we discuss how to integrate your strategy with your business plan to make it really work.