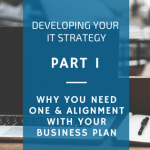 Aligning your IT strategy with your business development plan.
At the beginning of the financial year (just a week ago for the most of us) it's likely you'll be sitting down with your partners and senior team to map out the development and growth of the firm for the year ahead. You may be reviewing your mission and you'll be looking at goals and objectives, budgets and projects. Aspects of your IT may be part of your business plan, or at least feature in the financials, but there's a lot to be said for having a separate strategy for your IT, even if just a simple one-pager.
Are you getting the right return on your IT investment?
You probably made a substantial investment in your IT at some particular point, no doubt with the expectation of significant future benefits for your business. But are you deploying your IT in a way that optimises your return on that investment?
Businesses need to move on from the old mindset of 'retro-fitting' business functionality, where the IT is simply bolted on the side, more as an afterthought than an integral part of the plan.  There are real gains to be made from moving into treating your IT as the central nervous system of your business, as part of a forward-thinking, business-focused IT strategy. With this approach the expectations you had from your initial IT investment are much more likely to become a reality.
Why is alignment with your business plan important?
Like your marketing plan, your IT contributes to the functioning of your business and can optimise its value. Generic reasoning aside, aligning or synchronising your IT strategy with your growth plans will contribute to:
a shared understanding of how the IT applications, technologies and services will contribute to business objectives now and in the future
a shared focus on where to expend scarce resources and the trade-offs your firm is prepared to make, and
a credible working relationship between your IT provider (or IT team) and the rest of the business, to ensure reliable daily operations, responsive problem management and delivery of innovative solutions.
In the next part of this blog series we'll discuss how to get underway with your IT strategy and some starter questions to get you thinking about a few of the areas where improvements or cost savings can be made.