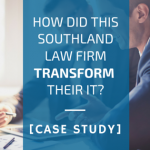 Preston Russell Law were facing the reality that much of their internal IT infrastructure was past its used-by date, and they knew replacing it would require extensive resources, but then they explored a cloud solution with Resolve. 
Resolve's SmartCloud IT platform for lawyers transformed PRL's spending model, replaced the resources tied up in managing internal IT requirements, and future proofed the firm.
Preston Russell Law is one of Southland's largest law firms with a diverse range of legal specialties. With a team of local and mobile solicitors and offices across multiple locations, agility and forward thinking is an ongoing theme that underlines all operational decisions.
Preston Russell's IT challenges
PRL's IT solution was an in-house infrastructure model that required someone to stay on top of licensing requirements, replacing hardware, upgrading software and set-up and support for virtual access for mobile employees. This was an ongoing responsibility and taxing on resources.
PRL's key IT challenges:
owned a lot of aged hardware that was overdue for replacement
trapped in a cycle of 'review and renew'
growing number of employees wanted the option to work remotely
managing cyber-security threats
taxing resource requirements to keep licenses, software and hardware up to date, and
currently investigating operational cloud tools and software to use in the future, which would result in a complicated mix of onsite/offsite IT.
The solution
Facing another cycle of replacing the existing infrastructure, PRL's chief executive Garry Bell was motivated to look into alternative IT solutions. He started reading up on the advantages of the cloud and 'remote hosting', and knew the benefits it would have for their progressive firm.
With Resolve's client base being primarily law firms PRL felt that the team would understand their needs at a deeper level than a general IT provider, and would know more about the intricacies of their software.
Resolve's New Zealand located SmartCloud IT platform ticked the boxes for PRL. In particular, the per-user pricing model.
PRL value the Resolve SmartCloud solution because:
no need for new infrastructure purchases
per-user pricing is an effective model for easier budgeting and is more agile for changes in the team
very responsive help desk that knows the 'ins and outs' of the specific software used by their own firm
proactive cyber-security and threat management
remote set up is easy, and
licensing and software updates are all taken care of.
Migrating to the cloud
The most crucial part of changing IT providers, especially when going from an in-house infrastructure model to a cloud solution, is the migration or 'on-boarding' project across to a new platform.
PRL soon realised that this was going to be a complicated and a large scale project, but found Resolve's project leadership got them over the line.
The other providers who interact with your IT environment can be a real barrier to a successful migration project, but Resolve led the way and took care of some of the challenges for us. They just dealt with everything we threw at them.

– Christine McLeod
PRL found that Resolve's constant communication with an IT savvy PRL employee was a key factor in the success of their particular migration – a resource not every team has.
However, Resolve Operations Manager Nick Phillips has successfully on-boarded over 20 law firms to Resolve's SmartCloud platform with PRL being one of their largest to-date, and is confident his team can manage the road blocks.
Due to the wide variety of factors involved in a migration project, each one requires a slightly different formula. We learn new lessons each time and our process continues to evolve.

But by no means are our clients Guinea pigs, we know what we're doing and we understand their unique environments.

– Nick Phillips, Operations Manager, Resolve